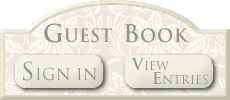 Write in my guest book. I would be happy to link to your Christian web site.

The Christian Pro-Life Right has been established to help defend the lives of innocent babies whom need protection since the 1973 Supreme Court decision Roe v. Wade which  legalized the death of pre-born babies by abortion.

AgapePress
is a cooperative news service. The news content focuses on issues that have moral, social, and political implications, and is written from a Christian prespective.
Christian Shopping
- Christian owned store online. If you are a Christian please concider shopping here and telliing others about this shopping site.
About Christian Pro-life Right

This site, Christian Pro-life Right, was previously developed by a Christian lady named Doreen. After a lot of work and dedication she had to give it up. It was saved after being deleted and redesigned to continue to support pro-life, Christian values.